iPhone 4S and iOS 5 – What's new?
When Apple announced its "Let's talk iPhone" event to be held on October 4th 2011, everyone expected the launch of iPhone 5. Although there wasn't an iPhone 5, there was something with '5' in its name, the iOS 5. This new operating system is compatible with iPhone 3GS, iPhone 4, iPhone 4S, iPod Touch 3rd Generation, iPod Touch 4th Generation, iPad and iPad 2. Also, Apple launched an upgraded version of its flagship smartphone instead of a completely new model, called the iPhone 4S. So what's new? Read on to find out:
iPhone 4S:
Hardware – iPhone 4S now uses the dual core Apple A5 processor, the very same that powers the iPad 2, albeit slightly underclocked to 800MHz. A new variant with 64GB of memory is now available along with the previous 16GB and 32GB variants. The camera has been upgraded as well and is now capable of taking still photographs at 8MP and capturing full 1080P HD video, up from iPhone 4's 720P HD video recording. Due to complaints regarding loss of signals while holding the iPhone 4 in certain ways, the iPhone 4S now features an antenna split into two parts for cellular data. The phone automatically uses the antenna part which is receiving/transmitting data optimally. The new Apple A5 processor also allows for better interactive multimedia applications and higher data rates of upto 14.4 Mbps with HSDPA (High-Speed Downlink Packet Access). Apple claims higher battery life on talktime but reportedly the standby time is less compared to iPhone 4. Last but not least is the addition of Bluetooth 4.0 support.
Other features – While most new features are tied to iOS 5 and are available on previous generation devices that can run it, iPhone 4S has some neat tricks of its own too! The most interesting new feature exclusive, as of now, to iPhone 4S is 'Siri'. Siri is an adaptive voice control system that allows users to give commands to the phone. According to early reports, the results are fantastic and Siri has proven to be responsive and helpful with a small margin of error. Along with ease of use for most, Siri makes it much easier for visually impaired people to use the phone as well. As of now Siri supports English, German and French, but more languages will most probably be added in the near future. Unlike the voice control systems on some phones these days, Siri can be programmed for custom responses and inputs and can also answer questions according to present data, such as weather conditions, addresses and the like.
Apple also positions the iPhone 4S as a serious handheld gaming device on par with PlayStation Vita and Nintendo DS/3DS. It claims that the iPhone 4S is capable of processing 35 million polygons per second. That's quite a number, considering current home consoles with far more powerful hardware are capable of processing about 300-500 million polygons per second. Along with fantastic graphics, the iPhone 4S can also integrate voice control into the games. This could prove be quite troublesome for the other handheld gaming devices in competition even though its basically a smartphone with gaming as a second capability.
Highly Suggested Topic:
Top 10 Music Apps for Android, iPhone and iPad
iOS 5:
Apple's new mobile operating system was launched with the iPhone 4S, but it can be used on previous generation devices as well. Although some features remain exclusive to the new device, users of the previous generation devices can enjoy the plethora of new features as well:
iMessage – Here it is, Apple's very own version of BlackBerry Messenger. Now users with devices capable of running iOS 5 can message each other unlimited, absolutely free! Along with the usual text messages, iMessage allows users to share photos, videos and even contacts. Another fun feature is that conversations can be continued on multiple devices. Let's say you suddenly stop a conversation on your iPhone. Fret not, you can pick it up from wherever you left it on an iPad or iPod too. Furthermore, iMessage supports voice control, so you can keep speaking and it will be sent as text, even in multiple languages.
Notification center – The older iOS versions used to notify users of events via popups that frankly, could be a little annoying. The new notification center condenses all the events you want to be notified for into a nifty little screen that can be customized and configured. These notifications can be set to display on the lock screen too. Even widgets like news feeds and weather conditions can be added to notifications.
Camera enhancements – The camera can now be accessed directly from the lock screen instead of unlocking and switching to camera mode. Sometimes the whole process of switching to camera mode could make one lose that perfect moment, but no more! iOS 5 also includes a new camera app that allows for basic photo editing such as red eye reduction, sharpness enhancing, cropping, photo effects and more.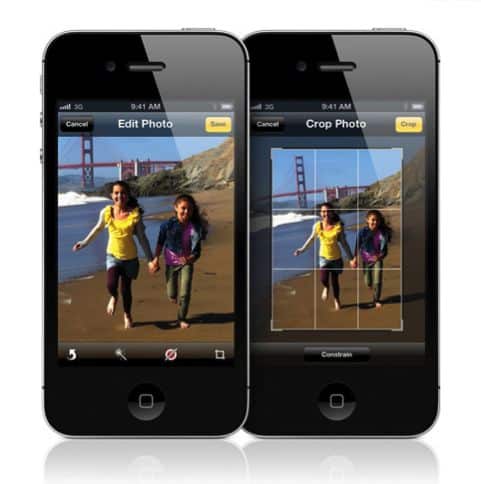 Twitter integration and new Safari – iOS 5 now sports Twitter integration in messaging and contacts. Also, a new version of Safari, Apple's  web browser is included which promises faster and more efficient browsing. Apple claims switching between tabs and loading pages is now much faster as well. On the fly page editing allows users to rearrange text, remove pictures or ads and reformat pages so they look better depending on user device and preferences.
New game center – The new game center goes the Xbox Live way with avatars, achievement points, game downloads and enhanced multiplayer gaming.
Advanced touch gestures – While previous iOS versions are already renown for their amazing multi touch interfaces, iOS 5 implements new advanced gestures that can be used to navigate through and control your device.
Highly Suggested Topic:
Top 30 Free Music iPhone, iPad & iPod Apps You Must Have – Popular
PC free usage – Previously a PC was required to sync data, download updates and initialize iOS devices. iOS 5 brings the biggest change by not requiring connection to a PC, ever. Users can initialize their devices, download updates wirelessly now. Although PC connection is optional, wireless sync is also possible now as well. Start up a new iOS 5 device and you're good to go, no more syncing required, everything can be now done over 3G or Wi-Fi.
These are just some of the noteworthy features, iOS 5 is said to have over 200 new features ! We have previously written a post on Top 30 Free Music iPhone, iPad & iPod Apps You Must Have  Hope you will share this information with your friends about iPhone 4s and iOS5.
About The Author
Rahul Gondane is a technophile and gamer, who has been obsessed with everything tech ever since he started dabbling in it in early 2000. He also enjoys reading books, listening to music and watching movies. Rahul is the Chief Operating Officer of Pyrite Technologies Pvt. Ltd.